2015MY SD4 Manual with Tech pack
Discussion Starter
·
#1
·
Hi all, and thanks for having me. I've tried to get up to speed with not being the wrong kind of newbie and checked out the newbie FAQ posts so will try to blend in, but happy to have a nudge in the right direction if I'm missing some of the forum etiquette!
Our car is a 2015MY SD4 with the Tech pack, pano roof, and a couple of other options, which we've had from new. As we had to wait for it (back then there was a 6-month wait and the factory was running round the clock), we had time to get excited, and managed to snag a factory tour while our car was going down the line, which was very cool (pictures below hopefully).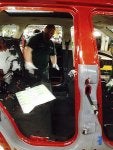 Now the car's not quite so new anymore, we're seeing more and more jobs needing doing, and hopefully I can tackle a fair few myself, but I'll no doubt need to trawl the archives for helpful info along the way... In fact (and I'm sure like a lot of people), it's a fault that's brought me here today - the dreaded turbo actuator (boo!). I'm not planning to start any new threads on it (phew!), but I'm keen to hear from anyone who's had their own one refurbed and refitted, and how it went. Don't want to throw money at a whole new turbo if it's not needed, but there seem to be a lot of vague bits of info about whether the actuator truly needs to be calibrated to the turbo or not (which I can believe), and it's also a bit vague about whether reusing your own one sidesteps that issue. I'm sure loads of people have tried all the options and the info is out there...
Anyway, that's enough waffle from me - bye for now, and I look forward to chatting to you all (not literally everyone with 19K members!).
Cheers,
Alan